One of the first big NAA events at the Village Arts Building in 2017.
MEMBERS OF THE NORTHPORT ARTS ASSOCIATION
My interest in photography started when I was a kid. I had many different cameras but really didn't know how to use them. My interested renewed around 1991 when I took up underwater photography. Then, 15 years later, a person at my workplace held a 10 week photography class that taught me how to shoot in manual mode and how to take better images. This got me started on 'land' photography again.
I have met several excellent photographers thru camera clubs and they have helped me elevate my photography to where I am now.
I really enjoy underwater photography, but my scuba diving days are few. Sports would be my next choice, then nature and candid people shots.
As an artist, Kat never stands still. Two years ago, she debuted her digital painting which opened doors into the art world. Her current digital artwork emphases – lots of chroma.
Kay designed the Northport Marina Mural titled, "Bay Presents" – bright colors that segue from one scene to another down the 109' wall. Her challenge – create a village attraction with high quality artwork involving community participation with people of all ages and abilities. Result – more than 200 individuals contributed, helping each other, sharing techniques, making new friends and building community pride.
Kat's prolific ability now includes Oil and Acrylic painting. Her original work and multiple sized Giclée prints are available.
Currently in her studio in Suttons Bay, Michigan Kat offers promotional and marketing services.
Mimi plays with paint, photos and words. A writer, first, she also loves the process of being in the flow of creation and whatever form that takes. She enjoys making abstract acrylics and multi media pieces. Her photos and altered photos let her frame the world in a new way. Photo manipulation let's her redefine places, buildings especially, as caricatures revealing other sides of familiar locations. Look for her new collection Chicago:Sugared, at the summer, NAA Photography Show. Currently, she is participating in the NaPoWriMo - National Poetry Writing Month, challenge: 30 poems in 30 days. This month of poems can be seen on her blog.
I have returned to my roots as an artist and designer of the land in Leelanau County. Currently I am developing a 30-acre farm into a nursery for production of perennials, trees and ornamental shrubs that will be native and/or conducive to the northern Michigan environment.
Most of my artwork originates with the land. I have researched the ways the people of the land used the rocks, beaches, forests, rivers and lakes long before the European's came to this continent. My work is stimulated by the stories and legends that were created during the time when the land was virgin and not developed.
I have always been interested in landscapes whether it is in the design of the land or the painting of the scenes that surround the places I live. I paint how the land feels and try to portray the image of how the land and waters speak an ancient language that only those who see and listen can understand.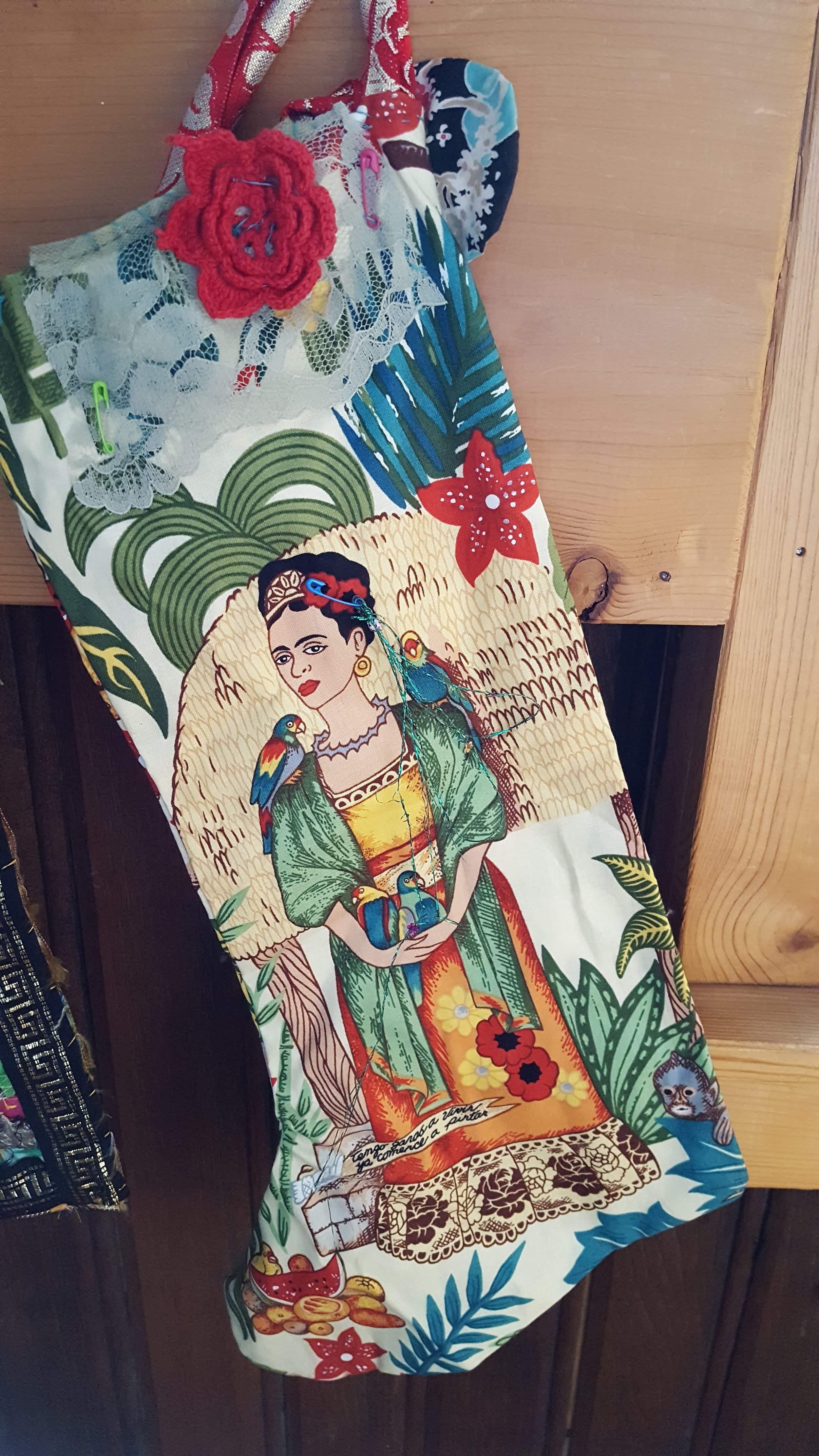 My interest in art is life long since I was first given a box of crayons and found envelopes in the trash. I love color, texture, world cultures, and history. My interest in Frida Kahlo began in college when I first saw her in an Edward Weston photograph. I was compelled to find our who this woman was. For decades, I have studied her art and life, even learning to read Spanish in order to read her diary in her own language.

I enjoy the opportunity of the holidays to incorporate whimsy into my art, letting the child in me who loved Crayons to come out and play.
I work with acrylic on canvas, wc paper, and yupo. I paint landscapes, florals, people and abstracts.
Associations: Northport Art Association; Leelanau Women Artists, Art Center Manatee, Signature Member of Florida Suncoast Watercolor Society, International Association of Acrylic Painters, Ajijic Society of the Arts, Chapala Society Writer's Group.
Carole Steinberg Berk is a Michigan-based artist: a painter, printmaker, photographer and papermaker.
In addition to her paintings, Carole's writings and other artworks have been published in Still Point and other art-related journals. Her work has also appeared on commissioned book covers and CD jackets. In her latest paintings, she's attempting to create multi-media, conceptual narratives-dialogue. She is a member of Northport Arts Association, Lansing Art Gallery and Lansing Council for the Arts.
Michael Steinberg, has written, co-authored, and/or edited six books and a stage play. In 2003, ForeWord Magazine chose Still Pitching as the Independent Press Memoir/Autobiography of the Year. A co-edited anthology, The Fourth Genre: Contemporary Writers of/on Creative Nonfiction (with Robert Root Jr) is now in a sixth edition. In addition, he's the founding editor of the literary journal Fourth Genre: Explorations in Nonfiction.
Steinberg has taught workshops nationally and internationally in addition to being a visiting writer at many colleges and universities. Currently, he's the nonfiction writer-in-residence at the Solstice/Pine Manor College low residency MFA program in Boston.
Lydia has been making art since she was a little girl. She repurposes what others might call "junk" into whimsical sculptures. She works with metal, stained glass, and mixed mediums of all sorts to express her creativity. She paints, makes jewelry and upcycles old clothing to works of art. She's currently starting a group called Unity in Art, where she helps others express their creativity through different interactive programs.
Residing in Northport, she is a part- time college student and a proud board member of the Arts Association.
Tom has been teaching artists and illustrators since 1987. He is the illustrator of four children's history books which you may have seen in your library: Michigan, An Illustrated History For Children, Great Lakes and Great Ships, Indians of the Great Lakes, Prehistoric Great Lakes. These books are being used in Elementary and Middle Schools throughout the Great Lakes Area. For the past thirty years he has he has shared his love for Michigan and the Great Lakes region with students and teachers in schools, libraries and conferences, throughout the state. His Great Lakes Illustration Workshops, engage students of all ages, in challenging and fun drawing and writing projects. He says, "My goal is to broaden their awareness of, and respect for their natural and societal surroundings." His Illustration workshops can be custom tailored to most any topic, or event.
Christine Woomer is a painter, printer, teacher and illustrator. She received her BFA from MSU. She illustrated 'THE OUTDOOR MUSEUM The Magic of Michigan's Marshall M. Fredericks' published by Wayne State University Press. Christine also co-authored and illustrated 'Trapper, a Friend for Life' published by
Paws with a Cause. She has completed many commissions. Her work has been in many shows including a solo show at Frederik Meijer Garden and Sculpture Park in Grand Rapids. Christine has taught watercolors at the afore mentioned FMGardens as well as 17 years at Gilda's Club in Grand Rapids.
We are excited to share that several NAA artists have artwork on display in the Dennos 2019 Northwest Michigan Regional Juried Exhibition. The artwork of Denice Goldschmidt, Marjorie Farrell, Michelle Jahraus, Linda Alice Dewey and Cal Kemppainen is shown below. Lori Feldpausch is also in the exhibit.
2019 NORTHWEST MICHIGAN REGIONAL JURIED EXHIBITION
FEBRUARY 3 - MAY 5, 2019
The Dennos Museum Center invites artists in Northwest Michigan to submit up to two works to be juried for exhibition in the 2019 Northwest Michigan Regional Juried Exhibition. Held regularly at the Museum for 27 years, the exhibition features art made by local artists over the last year, juried by a regional arts professional. This year's esteemed juror is James A. Bridenstine, former Director of the Kalamazoo Institute of Arts in Kalamazoo, Michigan.
FRIDA KAHLO'S SUNHAT
Assemblage/collage. Found object wood folk art chair, fabric, ribbon, acrylics, handmade vintage wire ribbon flowers, vintage sunhat.
Fiber, in its varied forms, has been a life long expressive medium for me as an artist. I love its texture and color. When I am using items from my mother's or grandmother's sewing baskets, it is also filled with memories from decades past.
JUST TO THE POINT
16" x 20" in a driftwood frame
BOOTLEG
It is from a still life I had for the last NAA painting class last summer. Those boots have had some walk'in... and I have used them for many drawing and painting classes over the years! I entered it in the juried Dennos show, really thinking it would not get in, but I guess those boots and Victor's jeans couldn't help but walk in! Actually, I am pleased they made it in the show.
LEELANAU'S RESOURCES
In the mid-1990s, I was in Leelanau for the summer, exploring Schaumburg Road on a beautiful July day, when I came upon this gorgeous scene. At the time, I was selling my photographs, matted, in several shops around the county, so I was equipped with my camera. I stopped to take a shot, and the farmer rode his combine (I think that's what it is—I'm not a farmer!), up to me. He got down from it, came over, and we chatted. He was nice enough to sign the Model Release I fortunately carried with me. It was Ed Kalchick. When I moved here as a year-round resident in 1999, that name would become familiar to me. I painted this from that photo a year ago and named the piece "Leelanau's Resources." I think it shows them all. The piece is not large, just 9 x 12, and I have it listed at $350, retail. It is pastel on artists' sandpaper, my favorite medium.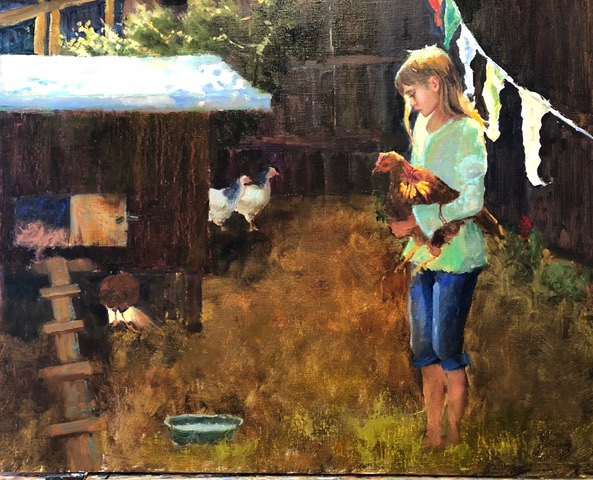 LAST LIGHT
Painting of my granddaughter with her chickens.